photos, above and below:
Builders photos by the American Car Company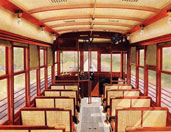 KITS & PARTS
COMPLETE CARS
© Light Rail Products
LRP #301
Hartland Birney Car
Hartland Locomotive Works produces two versions of this Birney Car; one called the East Coast (shown) and one that is a red Pacific Electric paint scheme. Please specify which paint scheme offered by Hartland that you'd like to have running on your line.
This car, which we have test operated, ran like a top, right out of the box. The headlights change direction when the car reverses direction. Several
LRP

products can be used to upgrade this car. Such as more realistic, trolley poles, headlight fixtures or eclipse fenders.
$300.00

each
Check for availability.
Hartland East Coast Birney Car
LRP# 301
Not actual size of item. Reduced for viewing.
Actual size is 1:24 Scale to fit G scale models.
Item color may vary from monitor color.