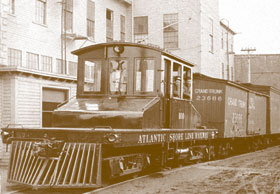 photo: Atlantic Shore Railway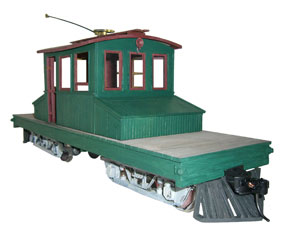 Steeple Cab Kit assembled with
additional LRP parts #012, #004 and #008
Not actual size of item. Enlarged for viewing.
Actual size is 1:24 Scale to fit G scale models.
Kit comes unpainted.
LRP #300
Steeple Cab Locomotive Kit
Resin Kit:

This Steeple Cab Kit is based on an old Atlantic Shore Line Railway locomotive which still exists at the Seashore Trolley Museum in Kennebunkport, Maine. Otherwise known as "House on a Raft", (according to sources) this is one of two remaining wooden steeple cabs in existence in the US. (The other is in Snoqualmie, WA). This is a relatively simple kit to assemble, with detailed instructions included.
Light Rail Products

is pleased to announce the production of model LRP #300, Atlantic Shore Line Steeple Cab Locomotive. This car body kit is now available for sale and delivery.
The following items are available to add to the Steeple Cab Kit:
LRP #004 - Trolley Base + Harp w/Wheel
LRP #025 - Interurban Headlight
Other details are planned for this kit. Please check back for developments in the future.
$150.00

Car Body Kit only