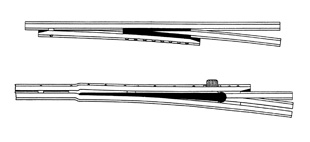 Drawing not actual size of item. Enlarged for viewing.
LRP #015
Streetcar Switches
Nickel Silver Casting:

Streetcar switch point and mate castings are Code #250. These are made by

Llagas Creek

for

LRP.

Right hand and left hand #3 switches. Switches come without frog.
Right hand castings currently available.
Look for left hand castings soon.
$40.00

each set